Medical instrument are assistants to help doctors diagnose and treat diseases. In addition to some detection and analysis instruments, there are many things that need direct contact with patients. Because it is impossible for large medical devices to be used by one person, there is a great risk of cross infection. If disinfection and sterilization are not done well, it is easy to cause large-scale infection events. Therefore, cleaning, disinfection and sterilization of medical devices is one of the key means to prevent and control nosocomial infection and ensure medical quality.


The commonly used disinfection methods of medical instruments include heating sterilization. This method refers to the action of temperature exceeding the maximum growth temperature of cells on microorganisms, so that cells lose the coordination of life function and stop growth and development. As the high temperature continues, the cells will die. Heating sterilization can be divided into dry heat sterilization and damp heat sterilization. Dry heat sterilization can be carried out by electric heating constant temperature drying oven, dry heat sterilizer and other instruments. Damp heat sterilization can be carried out by steam heating sterilization device or pressure steam sterilization device, such as high-pressure steam sterilization pot or high-pressure sterilizer.


Radiation sterilization is also a conventional sterilization method, which refers to the method of sterilization by using the energy generated by radiation. The most common method is ultraviolet sterilization. The commonly used equipment is ultraviolet cleaning instrument, ultraviolet disinfection sterilizer and ultraviolet lamp. Ozone has the characteristics of strong oxidation, which can destroy the cell membrane and nucleic acid of microorganisms. Ozone can also be used for sterilization. The purpose of sterilization can be achieved by using ozone generator, ozone cleaner and ozone machine.


In addition, ultrasonic cleaners, plasma cleaners, cleaning machines, hydrogen peroxide sterilizers are also commonly used in the disinfection and sterilization of medical devices. In order to test whether the equipment meets the standard, instruments such as microbial detector and colony detector can also be used.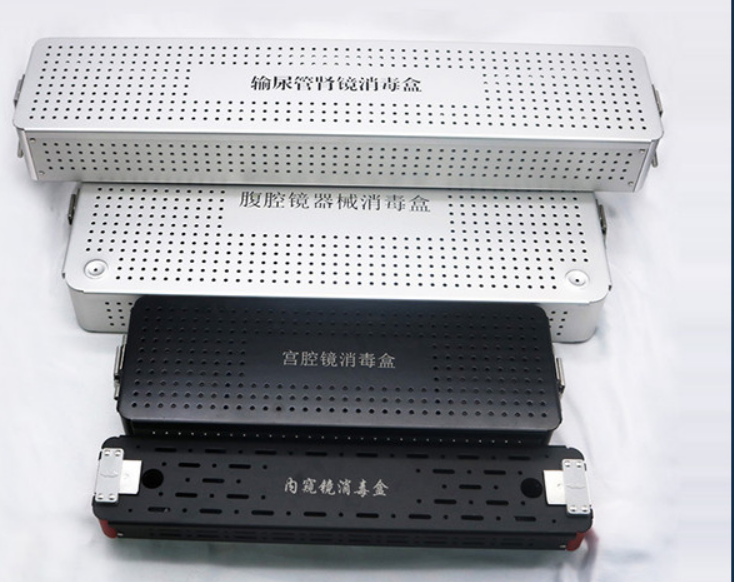 With the continuous development of endoscopic technology, minimally invasive surgery is becoming more and more popular. However, the disinfection, sterilization and storage of endoscopes have always been a problem that puzzles the departments using endoscopes. In order to effectively reduce and avoid the re pollution of bacteria free substances caused by repeatedly opening paper and plastic packaging to take sterilized items before endoscopes are used, reduce the operating procedures, reduce the labor intensity of staff, increase the service life of endoscopes and the insurance coefficient in the sterilization preparation stage, and follow the principle of providing safe operation guarantee, the serilization box is the best choice.

The disinfection tray mainly used for the integrated operation of storage, transportation and disinfection of various types of endoscopic instruments. There are different types such as single layer and double layer.

Aluminum and stainless steel sterilization boxes and a full set of related accessories constitute a complete sterilization box system. Compared with traditional aseptic packaging, it shows better safety, economy and high efficiency in the collection, classification, disinfection, sterilization, storage and transportation of surgical instruments. It is an ideal choice for users to update aseptic packaging materials.

The aluminum sterilization box is specially treated to withstand high temperature and high pressure sterilization, and can also be sterilized by low-temperature plasma. According to different designs, there are various spatial structures.


KASSICO, a leading aluminum box factory in Ningbo, China, has 21 years of production experience, specialized in manufacturing aluminum boxes, cases and containers. Provides a wide range of standard and customized boxes for global customers. We supply full custom service, including developing OEM&ODM projects. all products can be customized by size, color, logo, foam, accessories and more. Our company owns 15000m2 factory area and more than 200 sets of advanced manufacturing equipments, Perfect and rigorous QC system. Also, we have passed the ISO9001: 2015, BSCI, IAF Quality Management System Certification.