Considering the purchase of a new camping table but unsure about what factors to consider? Explore our latest blog post to gain insights into choosing the perfect camping table for your needs.
Camping has witnessed a surge in popularity worldwide, resulting in an increased number of companies manufacturing camping gear, including tables. With a plethora of options available, selecting the best camping table for your outdoor adventure can be daunting. These tables serve various purposes beyond food preparation, including gaming, storage, and family activities. Surprisingly affordable, the market offers a wide selection to fit different preferences.
Modern camping tables are designed to be lightweight and compact, eliminating concerns about portability. Foldable options can be effortlessly strapped onto backpacks for hiking trails. Given the abundance of choices from different brands, it's crucial to find the most suitable table for your camping trip. Before delving into the steps for selecting the ideal camping table, let's explore the key factors to consider during the buying process.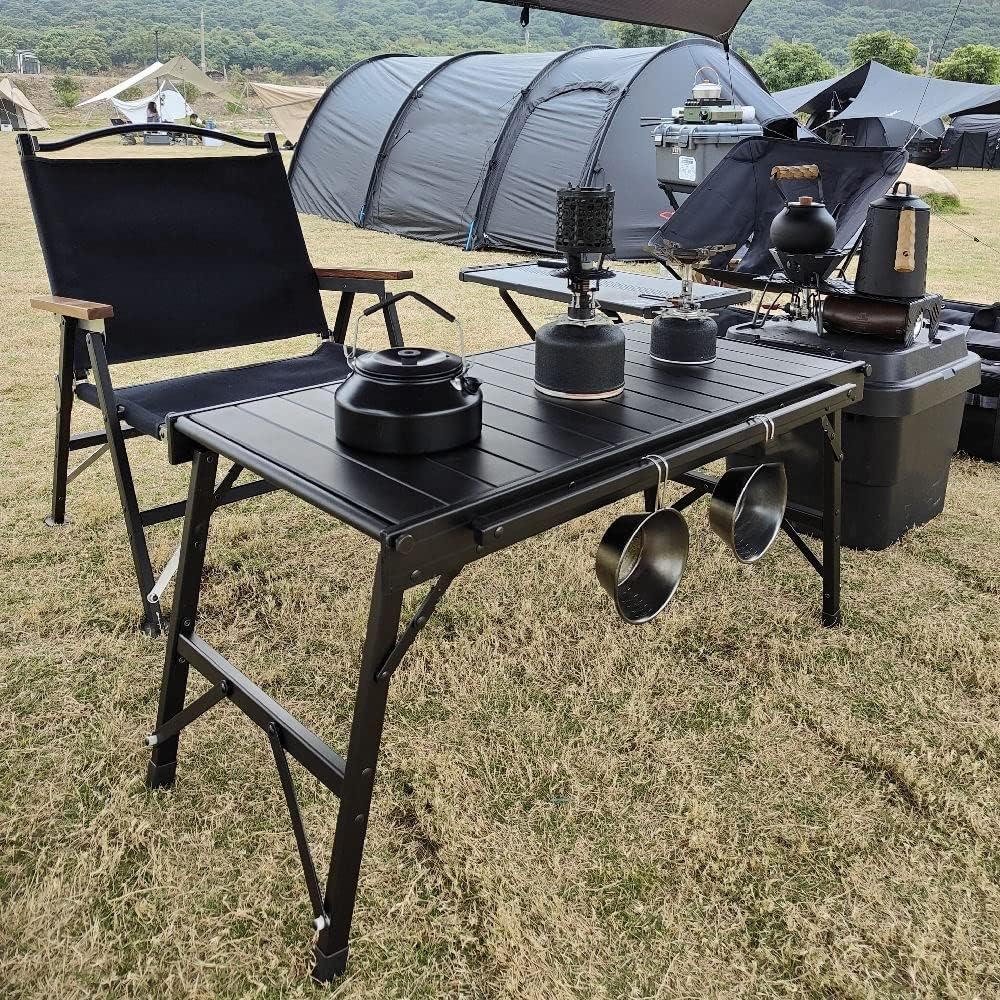 Material
The material used in manufacturing a camping table plays a crucial role in determining its aesthetics, durability, and suitability for outdoor conditions. Various materials are employed in crafting camping tables, each with its unique characteristics:
Metal Camp Tables
Elegant and formal, metal camping tables, typically made of steel, aluminum, or iron, are robust and ideal for outdoor spaces prone to violent winds. While heavy, they offer durability and stability. Aluminum camping tables are recommended for those seeking a lightweight yet durable option.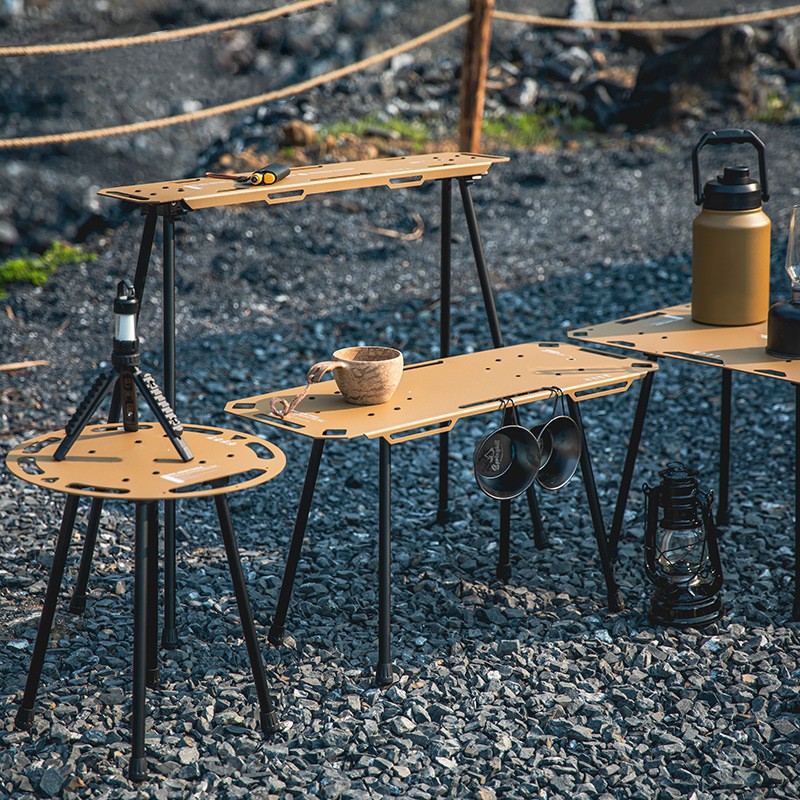 Wooden Camp Tables

Wood, a classic material for furniture, lends a rustic quality to camping tables. Types such as Cedar, Teak, Acacia, and Eucalyptus are popular choices. Wood tables are long-lasting, with teak tables boasting a lifespan exceeding 50 years. They are perfect for those desiring a nature-inspired, casual décor in their outdoor space.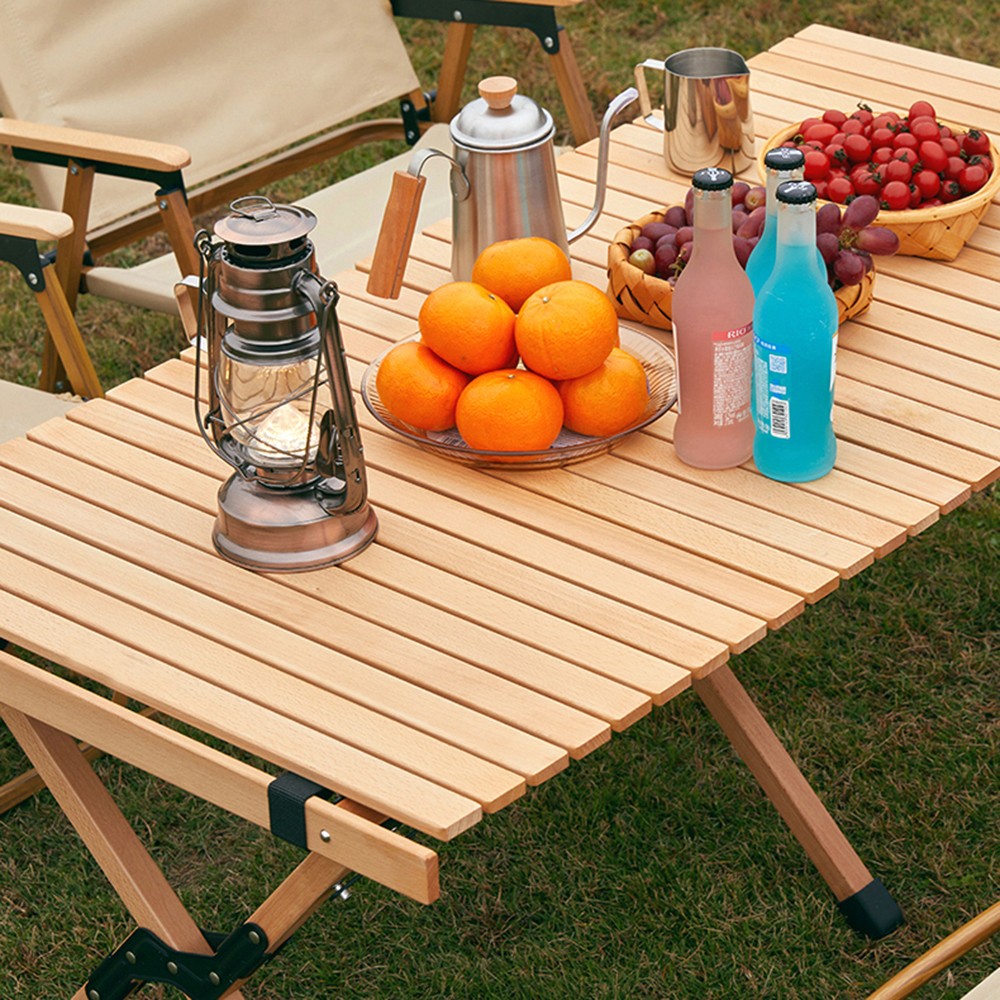 PVC or Plastic Camp Tables
Affordable and casual, PVC and plastic camping tables are lightweight, making them easy to transport or store. With proper maintenance, these tables can last for decades, although they may develop mildew in wet climates.
Rattan or Wicker Tables
Slightly more formal than plastic but less so than metal and wood, rattan or wicker camping tables offer a casual yet refined aesthetic. However, they require careful maintenance to prevent the development of mildew and mold, making it advisable to store them in covered or screened porches.
Understanding these material options will guide you towards choosing the camping table that best suits your preferences and camping conditions.
SIZE AND SHAPE:
Beyond material, the shape and size of your outdoor camping table should align with your requirements and the available space. Camping tables can be categorized into three groups based on seating capacity and size.
Extendable Tables:For versatility, consider an adjustable camping table. Extendable tables are ideal for families seeking options that can accommodate varying group sizes, providing intimate experiences when needed.
Dining Tables: Camp dining tables offer diversity in size and shape, similar to indoor dining tables. Ranging from standard options accommodating over 6 people to larger ones catering to up to 12, they are perfect for buffet-style meals.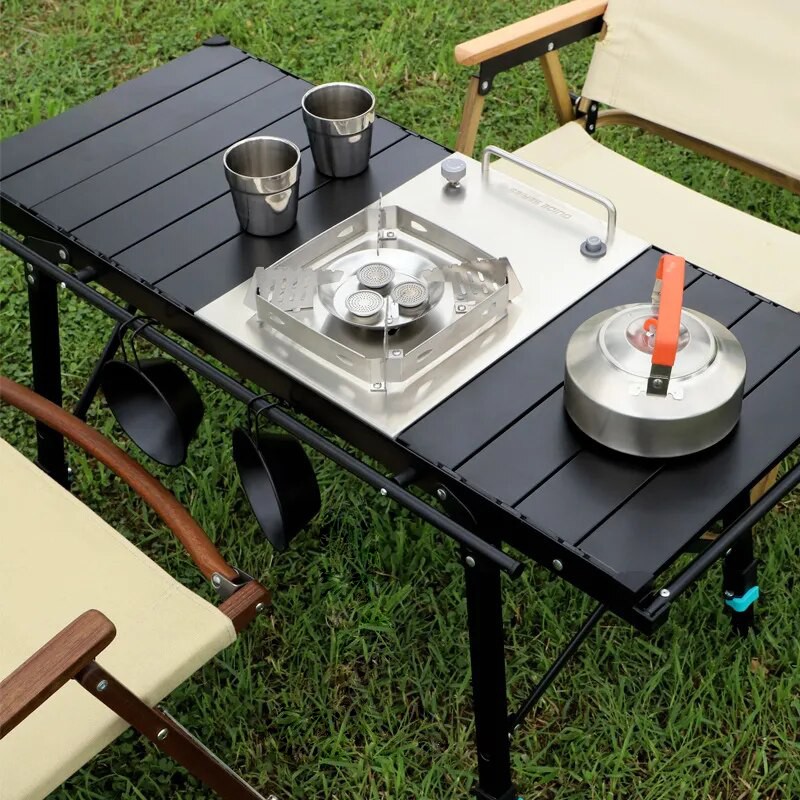 Bistro Tables:Ideal for smaller spaces, bistro tables are designed for two, extendable to four people. Available in balcony and standard heights, they are suitable for limited outdoor areas.
OTHER FACTORS
Consider the number of campers and their habits, as a larger table may be necessary for a group of six or more. Ensure compatibility in height and size between the camping table and chairs. Opt for stability to withstand outdoor conditions, and check for extras like side pockets for convenience.
Choose a lightweight, portable camping table for easy transport in a carrying case.
TYPES OF CAMPING TABLES:
Camping tables have evolved, offering versatility and convenience. Let's explore popular models:
DINING TABLES
Perfect for communal meals, these tables feature a flat surface made of wood or plastic. Though not as sturdy as home tables, they are designed to fold or collapse for portability. Ideal for board games and meals.
COOKING STATION TABLES
Tailored for outdoor food preparation, these rectangular tables provide ample space for stoves, cups, and utensils. Some include multiple levels for added storage during cooking.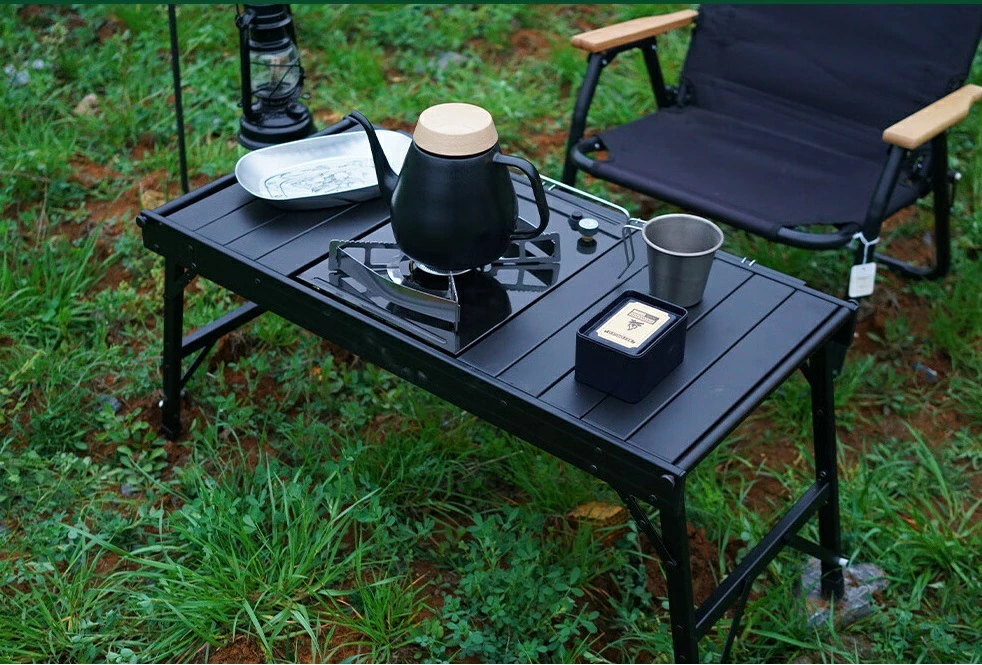 SOFT TOP OUTDOOR TABLES
Constructed from mesh or nylon, these versatile tables are not suitable for placing open containers directly. Many come with cup holders and are perfect for board and card games with family and friends.
By understanding these types and design constructions, you can choose a camping table that aligns with your specific needs, ensuring a comfortable and enjoyable outdoor experience.
FOLDING CAMPING TABLES:

Folding camping tables stand out as the preferred choice among backpackers and campers due to their portability. The key feature is their ability to fold, making them easy to carry on any camping adventure. With various brands offering folding tables in the market, you have a diverse selection to explore. Before finalizing your choice, pay attention to the surface area and height of the table.
The quality of a folding camping table can be gauged by assessing its folding capabilities. Opt for a table that is easy to fold and becomes compact when folded, eliminating the need for excessive strength. Consider how the table folds, ensuring it fits conveniently into your vehicle or backpack. Some folding tables even feature a handle when folded, facilitating effortless transportation outdoors.
For campers with sufficient car space, roll-up camping tables present an alternative. These tables are not suitable for those with compact hatchbacks or smaller cars, but they are perfect for SUVs. The legs fold under, and the table rolls into a cylindrical tube, making setup easier than folding tables. While lighter than folding tables, they may lack some sturdiness.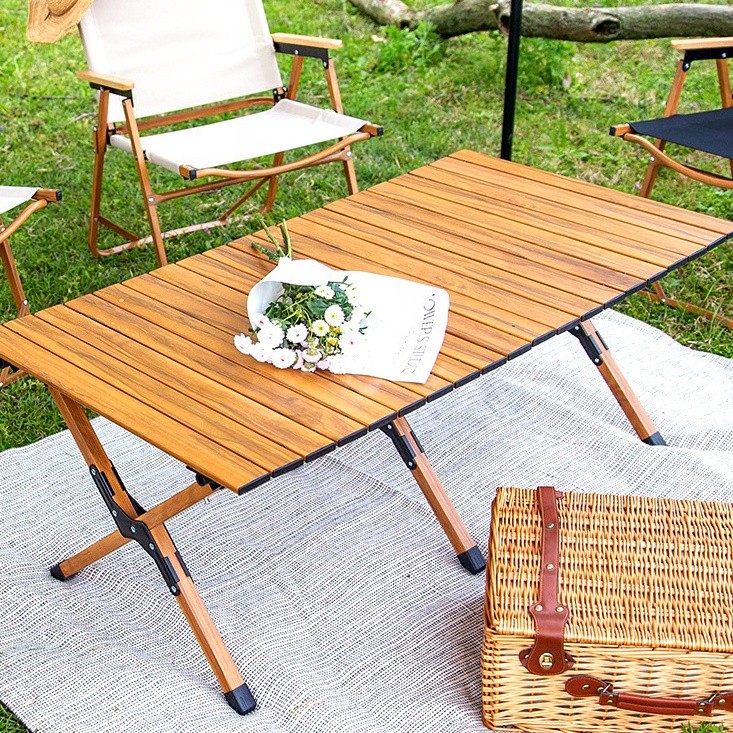 SMALL TABLES:
Compact and portable, small outdoor camping tables are designed for convenience. Although the surface area is smaller and they weigh less, these tables serve as additional storage for easily accessible items, such as fruits. Ideal for SUV owners, some models come with extra storage mesh pockets. Their smaller size allows placement inside tents, making them a practical choice.
LIGHTWEIGHT CAMPING TABLES:
While some of the aforementioned table types may also fall into this category, the primary motive behind opting for a lightweight camping table is to reduce the overall weight carried on the trip. Particularly beneficial for campsites where parking near your campsite is restricted, lightweight tables prove essential when you need to transport gear over a significant distance. Additionally, these tables tend to be extremely affordable, offering practicality and cost-effectiveness.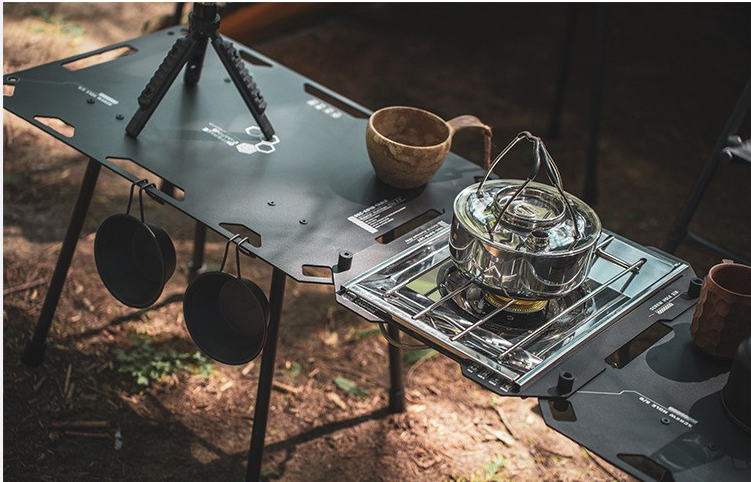 KASSICO, a leading aluminum box factory in Ningbo, China, has 22 years of production experience, specialized in manufacturing aluminum storage boxes, aluminum tool box, aluminum camp tables and camping chairs, Provides a wide range of standard and customized service for global customers. We supply full custom service, including developing OEM&ODM projects. all products can be customized by size, color, logo, foam, accessories and more. Our company owns 15000m2 factory area and more than 200 sets of advanced manufacturing equipments, Perfect and rigorous QC system. Also, we have passed the ISO9001: 2015, BSCI, IAF Quality Management System Certification.