Delivery:
About 4 weeks after 30% payment
Supply Ability:
5000pcs a month
The Tool + Equipment Crossover Black Truck Tool Box features a space-saving 12in. deep slimline design that offers secure storage while saving space in the bed of your truck. A stylish low profile design keeps out of your line of sight, offering excellent visibility from the cab. Fits most full-size trucks. Gloss Black. Oversize shipping charge applies.

1. 69in.L x 12in.D x 13in.H
2. Aluminum body construction with 0.045in. thick walls
3. Reinforced lid brace for exceptional strength
4. Self-adjusting strikers provide secure closure
5. Two stainless steel locking paddle handle latches give you the security you're looking for
6. Premium gas strut enables you to easily open or close the lid with one hand
7. Durable, abrasion-resistant black powder-coat finish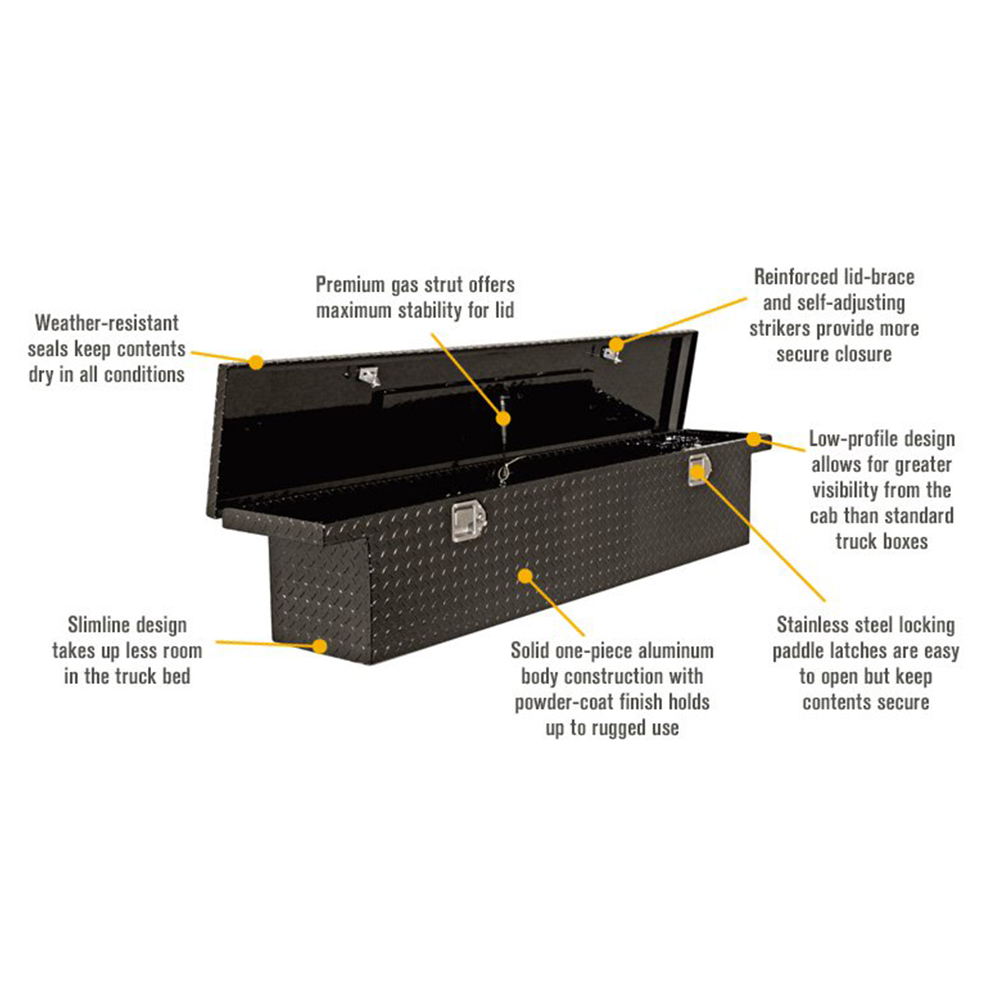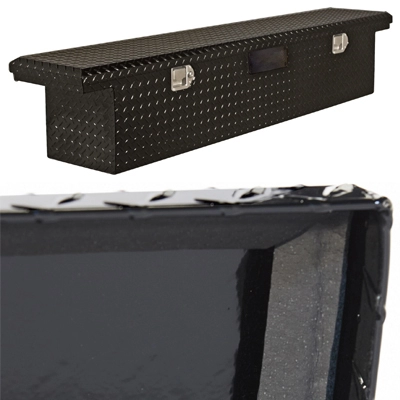 Rust-Resistant Aluminum
The heavy-duty solid diamond treadplate aluminum body construction doesn't shy away from the elements, using a durable black powder-coat finish inside and out to resist abrasions, rust and corrosion no matter what type of conditions Mother Nature dishes out.

One-Piece Design for Strength and Integrity
The one-piece tub construction means a solid box design containing fewer seams, resulting in more overall strength and less vulnerability to leaks. The few seams that do exist are 100% fully TIG welded to ensure a solid, lasting seal.

One-Of-A-Kind End Design
This patented design creates a box with integral ends — ends that are created from a solid piece of metal that not only adds exceptional strength and durability. The ends also form a handy small parts partition storage area as well.

Lock Out the Elements
A premium weather-resistant seal forms a tight barrier around the box lid that keeps out dirt, dust and moisture, effectively protecting your gear in the box from the elements.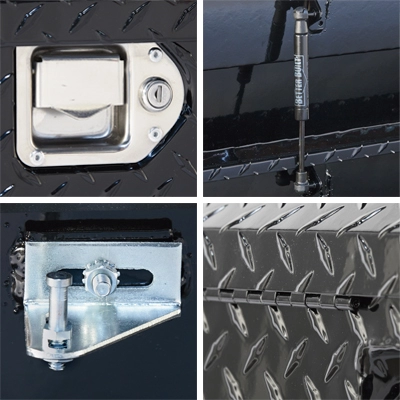 Aligned Right, Closes Tight
The reinforced lid brace provides exceptional strength and is teamed with a pair of patented self-adjusting lid strikers that automatically compensate to keep the lid in perfect alignment. No manual adjustments, no hassles, just a secure closure every time.

Trust the Security of Locking Handles
Two stainless steel locking paddle handle latches conveniently sit flush with the box and are easy to open yet they lock up tight, providing the extra security you're looking for to protect everything you store.

Easy One-Hand Entry
Premium auto lift self-rising shocks quickly spring to life, opening and closing the box lid with minimal effort, which makes loading or unloading much easier when your hands are already full. They also add maximum stability and allow the lid to open nearly 90°.

Full-Length Hinge Support
When a left or right side hinge gets wiggly loose or breaks free, a truck box lid can become a nightmare to open and close. This box eliminates those worries. The continuous aluminum piano hinge provides full support down the entire length of the lid; it's one solid hinge with no weak points.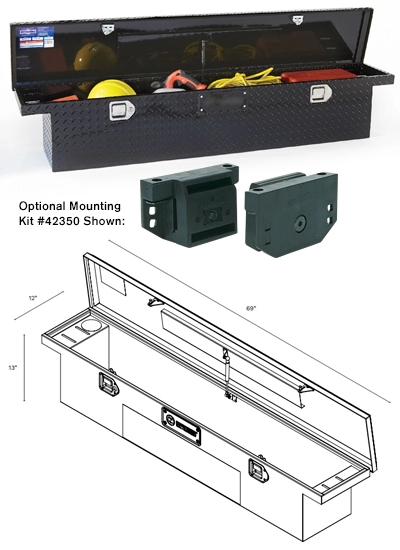 Haul Gear Without Limiting Visibility
The stylish yet roomy low profile design sits lower in the bed of your truck, offering plenty of storage space plus a clear, unobstructed view that won't limit your visibility from the cab.

A Box That Won't Hog the Bed
The special slimline design of this box measures just 12 inches wide, taking up minimal space and leaving plenty of extra cargo area in the rest of the truck bed.

Easy Mounting
The box sits solidly on the truck rail, ready to mount with your own choice of hardware. For a dependably secure mount that doesn't require drilling into your truck bed, the Better Built Grip Rite truck box mounting kit is available (Item# 42350, sold separately.)

Versatility to Match Your Truck
This heavy-duty box has universal notches to accommodate wheel wells and is designed to fit in the bed of most full-size and mid-size pickup truck makes and models. Measures 69in.L x 12in.D x 13in.H. Check pickup bed and storage box measurements for compatibility before purchasing.